Jack A. Falk, Jr.
Jack is a shareholder of the firm and focuses on litigation involving trusts, estates, probate, and other civil litigation.  He serves clients in the firm's offices in Miami, Palm Beach and Naples and practices regularly before the probate courts in South Florida. Jack also has been appointed to act as a mediator in many estate and trust disputes and has been appointed by courts to serve as a special magistrate for discovery disputes.
Jack is a Fellow of the American College of Trust and Estate Counsel (ACTEC) and is named one of the "Best Lawyers in America" by Woodward/White, 10th (2001) and all subsequent annual editions.  Jack was named Best Lawyers' 2014 and 2018 Miami Litigation-Trusts and Estates Lawyer of the Year. He graduated magna cum laude from the University of Miami School of Law in 1987 and served on the Law Review as a Board Member for two years.  He received a business degree magna cum laude from Florida State University in 1983.
Jack has been recognized in "South Florida's Top Lawyers" and "South Florida's Best Lawyers" in the 2001-2022 editions of the South Florida Legal Guide. He also is listed as one of "Florida's Top Lawyers" in Florida Monthly (2004-2023) and has been listed in Florida Trend's "Florida Legal Elite" (2012-2022). He also has been recognized in Florida Super Lawyers (2006-2022) and was selected in 2018 as one of the top 100 lawyers in South Florida.
Jack has lectured and authored on litigation concerning trusts, estates and wills for The Florida Bar Real Property, Probate and Trust Law Section's statewide seminars on probate and trust law and litigation, for the Florida Fellows of ACTEC and the Florida Fellows Institute, for the Florida Legal Education Association, for the Florida Bankers Association's Florida Graduate Trust School, and for estate planning councils and corporate fiduciary associations in South Florida.  He also has been published in The Florida Bankers Magazine and The Florida Bar Journal and made television appearances on "Wealth & Wisdom."
Jack also has been very involved in working on and developing important legislation affecting trusts and estates through the Florida Bar's Real Property, Probate and Trust Law Section.  Jack served as Chair of the Probate and Trust Litigation Committee of the Florida Bar (2004-07), Chair of the Ad Hoc Committee on Personal Representative Issues (2013-2015), Vice Chair of the Trust Law Committee (2014 – 2020), and served as Chair of the ATO Conference (2013-2014).  He serves and has served for many years as a member on the Probate and Trust Litigation, Probate Law and Trust Law Committees, he is a  former member of the Elective Share Review Committee and the Probate Rules Committee, and he continues to serve as a member of the Executive Council of the Section.  Jack has served on the Fiduciary Litigation Committee of ACTEC from 2003 to the present.  He was past Chair (2002-2003) of the Probate and Guardianship Committee of the Miami-Dade County Bar.
Jack is one of three trustees of The Batchelor Foundation, one of the largest private foundations in Florida.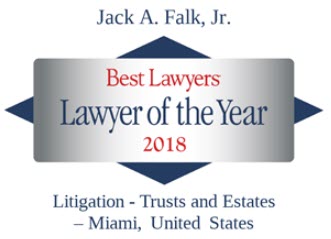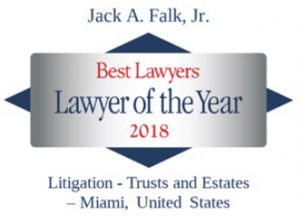 Jack A. Falk, Jr.: 2018 Lawyer of the Year, Best Lawyers

Jack A. Falk, Jr.: 2022 Best Lawyers